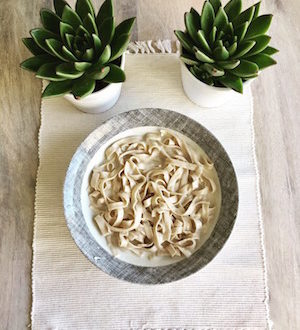 Spelt pasta with white sauce
Ingredients:
25 g butter or vegan butter
25 g organic all purpose flour
500 ml organic milk or nut milk
Himalayan salt
White pepper
Place butter in heated pan and let it melt.
Add flour and cook for 1 minute.
Remove from heat and mix with milk and bring to a boil while constantly stirring.
Let simmer for 12 minutes.
Cook spelt pasta as indicated in the box.
Mix and serve.(You can also add some Parmesan cheese or Zucchini)
Enjoy!

Print