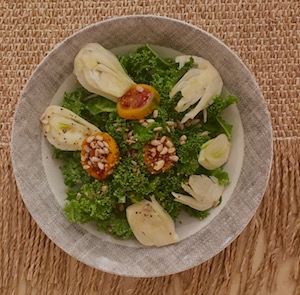 Ingredients:
Kale leaves
pumpkin seeds
Tea tree tomatoes or tamarillo fruit
Fennel
Olive oil
Mustard seeds
Himalayan salt
Lemon juice
Try using all of your ingredients organic.
Cut kale and mix with olive oil to tenderize the leaves.
Slice fennel
Peel tamarillos and slice
Add pumpkin seeds,salt ,mustard seeds and lemon juice.
Enjoy!

Print